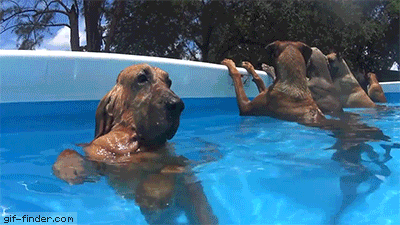 Dr. Marks said it best, if you're hot than your pet is hotter!
Our pets like to stay cool during the summer, just like us. Here are 4 ways to help your furry family member beat the heat!
Keep your pet hydrated! No matter if you're going on a walk or playing at the dog park, make sure to bring a bowl and have cool, fresh water available. Offer small amounts of water every 15-20 minutes while they are active.
Go for walks in the early morning or late afternoon to avoid the midday heat. Also, check the temperature of the pavement to make sure it's not too hot for your pup's paws. Pour water on the pavement, if it steams up it's too hot to walk!
Splish splash and have playtime in the water! If it's warm outside, you can have your dog play in the sprinkler, pool or lake to help cool them down.
Know the signs of heatstroke to keep your dog safe! Some panting is normal, but common signs of heat stroke include excessive panting, lethargy or restlessness, vomiting and diarrhea. Remember to call us immediately if your dog is showing any symptoms of a possible heat stroke.
We want all owners and pets to stay safe during the dog days of summer. If you have any questions about how to help your furry family member keep cool, please call us at: (773) 327-4446.
Source: Purina
Written for Blum Animal Hospital by Jackie Sheppard.