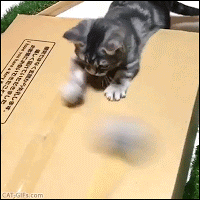 September is Happy Cat Month, which is all about promoting the health and well-being of our furry felines. Here are some fun do it yourself (DIY) toys that you can make for your cat to add some enrichment and fun to their routine. 
WINE CORKS
Save your wine corks to make a fun toy for your cat to play with! Make them more enticing by adding feathers or twine. Just be sure anything you add is secure and cannot be ingested.
T-SHIRT TENT
If you have an old t-shirt, 2 wire hangers, cardboard, tape and safety pins, you can make a tent for your cat to hang out in. This can also provide your cat comfort since the t-shirt may smell like you. Click here to watch a step-by-step video on how to make one!
SOCK TOYS
Do you have any socks laying around that are missing their mate? These would make great toys for your feline in a couple easy steps! All you need is something crinkly to fill your socks with, such as newspaper, and tie a knot on the end.
You can also easily make a cat nip toy out of a knee length sock. Cut off the bottom part of the sock to make a tube and tie off the end. Fill the sock with cat nip and use something else such as fiber fill as padding. Tie off the other end when full, and it's something your cat will love to play or cuddle with!
CAT PUZZLE
Owners know cats LOVE boxes. By using a carboard box or an old Tupperware container, cut several different size holes in the lid. Then fill the bottom with a variety of toys and treats that your cat will need to figure out how to remove!
Written for Blum Animal Hospital by Jackie Sheppard.