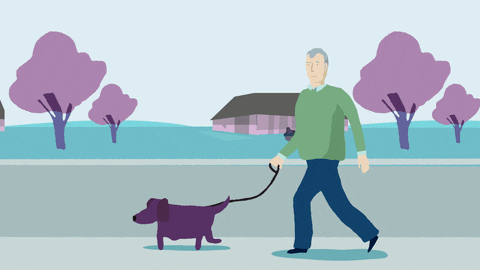 Dog owners know that taking their pup out for a walk is just part of their daily routine.
Walking is a very important part to keeping your dog healthy! In just the United States, about 40 percent of dogs are overweight. To put this in perspective, this is about 17 million dogs! If your dog needs to shed a few pounds, just walking them 30 minutes a day, three times a week can help them lose weight by 15 percent.
Walking your dog provides other health benefits for them such as:
Joint health – Keeping your dog moving regularly helps keep them from becoming stiff.
Digestive and urinary health – Regular walks help regulate your pet's GI tract since it gets them on a schedule and prevents constipation.

Also, if your dog goes too long in between walks to urinate, it can cause bladder infections, so routine walks are very important!
In addition, walking your dog has amazing health benefits for owners, too! Walks can help:
Lower blood pressure
Improve heart health
Decrease stress
For more information on how walking your dog can improve your health, click here.
Written for Blum Animal Hospital by Jackie Sheppard.