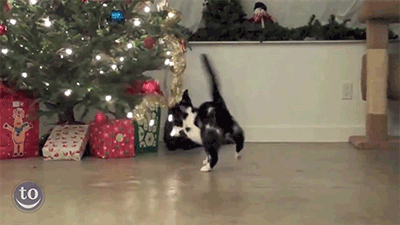 The holiday season has officially arrived, and we all know that our pets play an important role in the festivities!
Here are the top 5 tips to keep your furry friend jolly during the holidays:
Keep your Christmas tree secure – make sure the tree is secure in case you have any curious climbers! Also make sure they do not have access to the tree water for real trees.
Keep ornaments, tinsel, and string lights out of reach – these decorations can be choking hazards or cause intestinal obstruction if ingested.
Hide the table scraps – table scraps can cause gastrointestinal upset if ingested. Be sure to avoid meat bones, any type of chocolate, garlic, onions, and candies or baked goods. If you have guests for dinner, make sure they are instructed not to feed any table scraps.
Secure the gifts – gifts under the tree can be too tempting for unsupervised cats and dogs.
Keep your pet comfortable during a holiday party – a party can be overwhelming for pet due to new triggers like loud noises and strange faces. Make sure your pet has a safe space, away from the guests, with their favorite toys, treats, blankets and other items that bring comfort.
If your pet experiences any anxiety during the holiday festivities, talk to your veterinarian about situational anti-anxiety medication that be given to help your pet feel comfortable during the events.
Happy Holidays from Blum Animal Hospital!